Portfolio
Stephanie Grond
Person data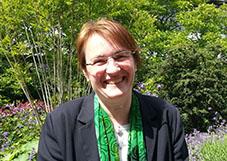 Academic title:
Prof. Dr.
Organizational units:
Institute of Organic Chemistry
Department of Chemistry
Contact data
Research focus
Getting on the Track of Nature: Chemical Diversity and Regulation Activity
A primary goal of our natural products research is to get further insights into the secondary metabolism of microorganisms and to generate a novel diversity of secondary metabolites. The research is based on previous work with biological derivatisation methods to enhance the diversity of secondary metabolites from microorganisms. We are interested in a new approach to novel metabolites by extension to genetic studies in interdisciplinary projects. Regulation acitivties concerning differentiation mechanisms and the investigation of the biosynthesis of metabolites is of our interest. For our aims Aspergillus sp., Streptomyces sp. and some other microorganisms with marked differentiation activities are selected. 
The main focus are isolation, structure elucidation and chemical characterization of the new secondary metabolites. Concise strategies to elucidate structures incorporate established methods of HPLC, modern spectroscopy (e.g. 2-D-NMR, MS/MS) and data bases.  Our institute of  bioorganic chemistry houses own microbiological technology besides chemical laboratories and an S1-security lab. Microbiological work revolves around stock cultures, cultivations in flasks and in various stirring vessels or an air-loop fermentor. Different whole cell assays are carried out. Additionally we work on a broad exploitation of the biological activity of the natural compounds with therapeutic targets in interdisciplinary cooperations with external research groups.
Publications