Portfolio
Klaus Schulze-Osthoff
Person data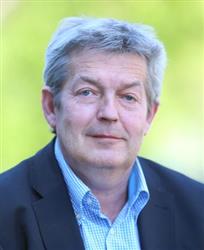 Academic title:
Prof. Dr.
Name:
Klaus Schulze-Osthoff
Organizational units:
Cluster of Excellence: Image-Guided and Functionally Instructed Tumor Therapies (iFIT)
Centers or interfaculty scientific institutions
Contact data
Curriculum vitae
Research focus
Tumor Biology, Inflammation Research, Cytokines, Transcription Factors, NF-κB, Apoptosis Senescence, Stress Signaling
Biographical Sketch
---
Klaus Schulze-Osthoff heads the Department of Molecular at the Interfaculty Institute of Biochemistry. For several years he studied cell death processes involved in tumor therapy and immune responses. He was the first to show that mitochondrial alterations are important for cell death processes. His group also discovered that caspases are crucial mediators of death receptor signaling. More recent research focuses on novel coactivators of transcription factor NF-κB and their role in immune cell differentiation and tumor therapy resistance. From 2009 to 2013 Klaus Schulze-Osthoff was the Scientific Director of the Comprehensive Cancer Centre (CCC) Tübingen, and from 2011 to 2013 he has been the spokesperson of the Collaborative Research Centre (SFB 773) on therapy resistance of solid tumors. Since 2011 he is the Tübingen's coordinator of in the German Consortium for Translational Cancer Research (DKTK).
Patents
Jonathan Meyer Cotton, Kerstin Fuchs, Marcel Krüger, Anna Kühn, Andreas Maurer, Bernd Pichler, Klaus Schulze-Osthoff, Lars Zender
Jonathan Meyer Cotton, Kerstin Fuchs, Christian Kesenheimer, Marcel Krüger, Bernd Pichler, Klaus Schulze-Osthoff
Dominic Hildebrand, Anna Teske
14/12/2012
10/12/2013 (EU)
Simon Lehle, Oliver Carsten Rothfuss, Klaus Schulze-Osthoff
Projects
2020 - 2021
Klaus Schulze-Osthoff, Michael Bitzer
Ministerium für Wissenschaft, Forschung und Kunst Baden-Württemberg (MWK)
2019 - 2025
Lars Zender, Bernd Pichler, Hans-Georg Rammensee
Deutsche Forschungsgemeinschaft e.V. (DFG)
2017 - 2021
Klaus Schulze-Osthoff, Stephan Hailfinger
Deutsche Forschungsgemeinschaft e.V. (DFG)
Publications