Portfolio
Martin Oettel
Person data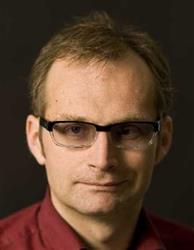 Academic title:
Prof. Dr.
Organizational units:
Institute of Applied Physics (IAP)
Department of Physics
Contact data
Research focus
Oettels Forschungsinteresse sind numerische Berechnungen von Systemen auf der Nanometerskala, die für die Physik, Chemie wie auch Biologie interessant sind, insbesondere im Bereich der "Weiche Materie" (Kolloidteilchen oder Makromoleküle in zumeist wässrigen Lösungen). Er untersucht effektive Wechselwirkungen und die Statik und Dynamik von Phasenübergängen, insbesondere die Kristallisation. Mit Kolloidpartikeln lassen sich Modellsysteme für andere Prozesse nachbilden, die sonst aufgrund ihrer typischen Längenskala nur mit großem technischen Aufwand zu beobachten sind, seien es nun solche in der Größenordnung von Atomen in Kristallen oder von Planeten in Galaxien.
Projects
2023 - 2026
Martin Oettel
Deutsche Forschungsgemeinschaft e.V. (DFG)
2019 - 2022
Günter Bertsche, Martin Oettel
Deutsche Forschungsgemeinschaft e.V. (DFG)
2019 - 2022
Martin Oettel, Günter Bertsche
Deutsche Forschungsgemeinschaft e.V. (DFG)
2018 - 2022
Martin Oettel
Carl Zeiss Stiftung
2016 - 2019
Frank Schreiber
Deutsche Forschungsgemeinschaft e.V. (DFG)
Publications