Project
Next Generation Perturbative QCD for Hadron Structure: Preparing for the Electron-Ion Collider
Basic data
Title:
Next Generation Perturbative QCD for Hadron Structure: Preparing for the Electron-Ion Collider
Duration:
10/1/2019 to 9/30/2022
Abstract / short description:
We want to establish a new generation of theoretical studies from which information on the structure of strongly interacting particles (hadrons) will emerge. Key elements will be computations of new high-order terms in QCD perturbation theory and of higher twist corrections. These theoretical calculations will go hand in hand with state-of- the-art phenomenological studies. A central theme of our proposal is to improve and strengthen the theoretical foundations for the science program at the future electron-ion collider (EIC).
Involved staff
Managers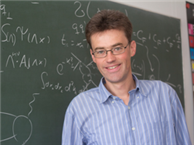 Faculty of Science
University of Tübingen
Institute for Theoretical Physics (ITP)
Department of Physics, Faculty of Science
---
Other staff
Institute for Theoretical Physics (ITP)
Department of Physics, Faculty of Science
Institute for Theoretical Physics (ITP)
Department of Physics, Faculty of Science
Local organizational units
Institute for Theoretical Physics (ITP)
Department of Physics
Faculty of Science
Funders